C.W. 'Bill' Fetter, PhD, PG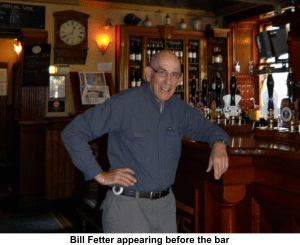 Dr. C. W. Fetter, Jr. is an internationally recognized expert in hydrogeology and the award-winning author of Applied Hydrogeology, the standard textbook for university courses in hydrogeology.

Dr. Fetter is a consultant in the areas of ground water and environmental science. He has appeared as an expert witness in court on numerous occasions. His services to these clients include evaluation of soil and ground water contamination to determine the source of contamination, estimating the timing of contamination events, and reviewing the appropriateness of planned remedial activities. He has also advised clients on ground water exploration and development.

Dr. Fetter is Emeritus Professor of Geology, University of Wisconsin Oshkosh where he was the Department Chair for 15 years. Career highlights include:
Applied Hydrogeology (Fourth Edition, 2001, Prentice Hall). This textbook has sold more than 100,000 copies worldwide.
Contaminant Hydrogeology (Revised Second Edition, 2008, Waveland Press)
1998 Ground Water Professional Award from the Wisconsin Ground Water Association
1996 Excellence in Science and Engineering Award from the Association of Ground Water Scientists and Engineers
Today, Dr. Fetter spends fall, winter and spring on Hilton Head Island, South Carolina and summer in northern Wisconsin. He enjoys biking, golf, scuba diving, boating and travel.
Members Login
Become A Member
It's Free, It's Easy and as a
Member you'll enjoy...
Exclusive Videos
Special Pricing
And Much More
Join
Learn More