Lee Anne Bledsoe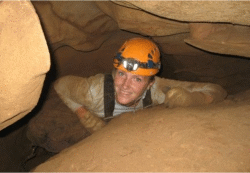 Mrs. Bledsoe is the manager for the Crawford Hydrology Laboratory at Western Kentucky University. She supervises all daily workings of the lab, including laboratory analysis, QA/QC, and field work, and communicates with clients. She has worked on dye traces for groundwater basin mapping, effluent and sewer pipe break investigations, determining groundwater flow routes from factories and quarries, and determining spring recharge areas.

Mrs. Bledsoe also coordinates and assists in training and outreach events for the Hoffman Environmental Research Institute at Western Kentucky University. Before joining the Hoffman team, she worked for private research institutes and the National Park Service on water quality, hydrology, ecosystem restoration, and public health research projects. She is a Registered Sanitarian with the Department of Public Health for the State of Kentucky and is a certified onsite wastewater disposal inspector. Ms. Bledsoe is currently pursuing a Master of Science degree in Geoscience at Western Kentucky University.
Members Login
Become A Member
It's Free, It's Easy and as a
Member you'll enjoy...
Exclusive Videos
Special Pricing
And Much More
Join
Learn More