First Time Demonstration
Nuclear magnetic resonance (NMR) is a powerful technique allowing direct detection of groundwater occurrence, flow, and hydraulic parameters.

First used by oil and gas reservoir engineers, NMR is used today by hydrogeologists, but is seeing increased applications in the geotechnical and civil engineering industry too.

This field demonstration and workshop is designed to apply NMR as a tool for groundwater investigations, but we will address other engineering, mining, and geotechnical applications too.

The field demonstration begins with an overview of the rock physics linking NMR measurements to hydrogeologic properties such as water content, porosity, pore size, and permeability. Building from basic NMR measurements, the field workshop dives into the field methods of borehole NMR logging and non-invasive surface NMR.

Demonstration discussions will include logging design, data processing and analysis. Analysis of the borehole NMR dataset is part of the field workshop activities.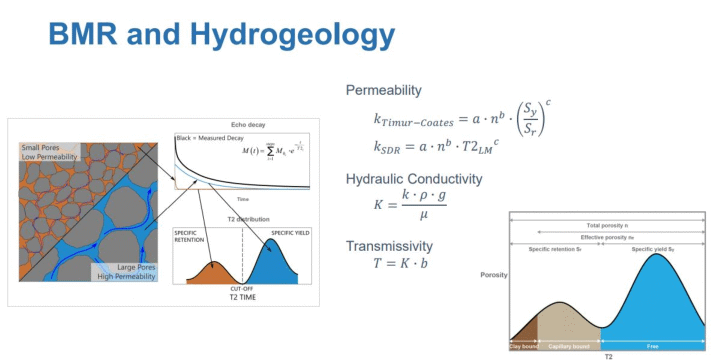 About Borehole Magnetic Resonance (BMR)
Borehole Magnetic Resonance (BMR) logging makes use of strong permanent magnets and a weak oscillating magnetic field from precisely timed bursts of electromagnetic (EM) energy at specific radio frequencies (RF).

Between these pulses an antenna is used to detect decaying spin-echo signals from hydrogen nuclei in resonance with the permanent magnetic field. These signals are processed to characterize the pore structure of rocks in much the same way as Magnetic Resonance Imaging (MRI) is used to interrogate the interior structure of the human body.

Borehole NMR is specifically tuned to sense pore network fluids only, enabling precise determination of rock total porosity (moisture content), mobile fluid content (specific yield), bound fluid content (specific retention) and permeability (hydraulic conductivity). NMR can also distinguish fluid types, with advanced analysis techniques developed to quantify both adsorbed gas content and free gas content of coals.

This unique interrogation technique eliminates the need for radioactive sources and is independent of lithology, thereby eliminating need for tool calibrations also. Applications
Mapping moisture content, specific yield and dry weight density in iron ore deposits to determine blend for feed stock to the crusher, quantify resource and pick open/closed fractures (in combination with ATV/OTV).
Developing dewatering strategies in and around underground coal mines and open pit ore mines.
Mapping aquifer hydrogeology to guide development of comprehensive groundwater management strategies.
Mapping brine hydrogeology to determine the economic viability and shaping development strategy of brine mining operations.
Map coal seam gas content and permeability distribution to plan coal mine layout, size mine ventilation systems and determine need for gas pre-drainage ahead of longwall mining operations.
BMR Features & Benefits
While NMR has been used routinely in the oil and gas logging industry for decades, uptake by other industries has been hindered by NMR tool size and cost of the logging service. NMRSA have addressed this capability gap through development of an advanced miniaturised, slim borehole Magnetic Resonance (BMR) logging tool.
Advanced NMR pulse sequences and signal processing techniques enable aquifer pore structure and mobile water content to be determined with a high degree of precision and accuracy.
An appropriate theoretical model is used to also estimate intrinsic permeability.
Raw data transmission, complemented by a powerful analysis software, enables a detailed log of these geophysical parameters to be generated real-time.
Despite miniaturisation, the BMR logging tool has impressive signal-to-noise (SNR) characteristics, resulting in a large depth of investigation.
High SNR, coupled with rapid data acquisition and processing, enables variation in geophysical parameters through the aquifer to be mapped while continuously logging at 1 m/min (~200ft/hr).
The BMR logging tool can be run centered in open-hole, fiberglass or PVC lined boreholes.
(Source: Mount Sopris, BMR Logging Tool Technical Specification Sheet)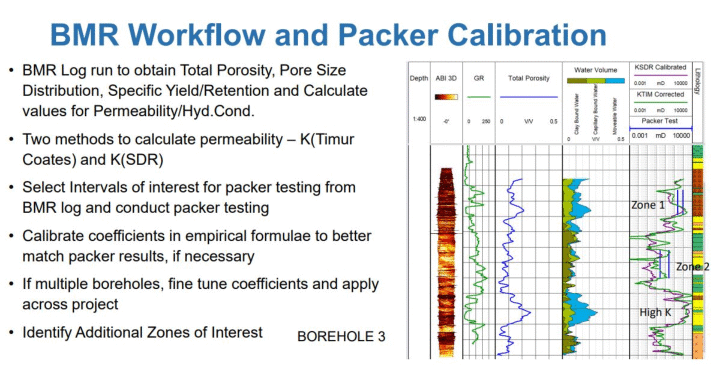 Exquisite Subsurface Conditions for Training
A new 160-ft borehole was drilled specifically for this demonstration and workshop. Approximately 100 feet of open borehole through the Baltimore Gneiss located on campus at West Chester University of Pennsylvania is an exquisite subsurface condition to observe and test:
Open borehole from 70 to 160 feet depth showing variable fracture spacing, orientations, and distribution.
Variable geologic conditions exhibited in the borehole from Baltimore Gniess Sequence.
Alternating stratigraphic controls to fracture characteristics.
Low ground water flow to teach precision measurements with flow meters.
Classic saprogenesis observed in core for refining site hydrogeologic conceptual model.
Responsive geophysical logging to both cased saprolite and bedrock.
The borehole was drilled using continuous sampling using sonic drilling techniques by Cascade Drilling, Inc. The boring was logged in detail and showed a sequential saprogenic progression that is currently held as a site-specific hydrogeologic conceptual model. The saprolitic portion of the boring is cased to approximately 70 feet, where the transition occurs from weathered bedrock to a more competent felsic gneiss.

Hydrophysical measurements, geophysical logging, and aquifer testing has already been conducted at the Site in order to effectively and efficiently teach not only how to use the tools, but how to make adjustments during a typical field project.
Take the Time to Sharpen Your Skills
Register for this course because it is a meaningful training experience.

If you're a senior level manager and have a protégé who will benefit from participating, contact us for an unpublished discount that will enable them to join you and grow your project performance together.
Regional Geology
The Baltimore Gneiss is generally mapped as the gneiss mega-sequence that occupies the lowest stratigraphic position in the central Piedmont. The majority of the Baltimore Gneiss is characterized as quartzo-feldspathic gneiss of granodioritic to granitic composition, with minor components consisting of amphibolite. The age of the Baltimore Gneiss ranges from 1.0-1.1 Ga.
REGISTRATION INFORMATION:

Limited Access

Advanced registration is necessary for participation in this limited-enrollment field workshop. Pre-registration is required to reserve access and receive workshop materials. If you require special arrangements for diet, equipment, or handicap facilities, please indicate when registering for the course.

Register online for this field demonstration and workshop.


WHAT YOU WILL RECEIVE:

4.0 contact hours of field activities that include both a demonstration and workshop. Course completion certificate from West Chester University for qualifying participants. Note: there is no food or beverages served during this course. Water will be available.

RAIN OR SHINE. A rain shelter will be installed at the training area.


REGISTRATION:

ONLY $149*

Early Registration Fee (member): $149.00

Early Registration Fee (non-member): $299.00

Early Registration Deadline: August 31, 2021

Registration after August 31, 2021: $399.00

[Currency in US Dollars]

Terms and Conditions


EARLY REGISTRATION DISCOUNT:
Early registration discounts may be applied when payment is received by August 31, 2021.

Terms and Conditions apply.

CANCELLATIONS:
Cancellations may be made up to September 3, 2021, however, 50 percent of the course fee will be charged or a credit will be issued. No refunds after September 3, 2021. Refunds are issued at the time when the course is conducted.

COVID: Midwest GeoSciences Group follows the
COVID protocols set forth by West Chester University of Pennsylvania.

SUBSTITUTIONS:
One substitute is allowed for each registrant who is unable to attend.

QUESTIONS:
For registration and technical questions about the course, contact Dan Kelleher at either 763.607.0092 or dan@midwestgeo.com