The course instructors have drilled numerous continuous soil borings in the region for the past 20 years. We've found a predictable consistency in the geologic framework beneath numerous cities and towns where these stratigraphic formations and members are mapped.

However recently, we've discovered an entirely new and older sedimentary sequence that has not been regionally mapped. The buried sequence allows an unmatched opportunity to teach both the principles of depositional environments and secondary weathering in northeastern Illinois where we didn't know previously existed.

[Not only did the new sedimentary sequence get us excited, but we recognize how it can applied to many different glacial deposits and sedimentary sequences far beyond the local geologic framework]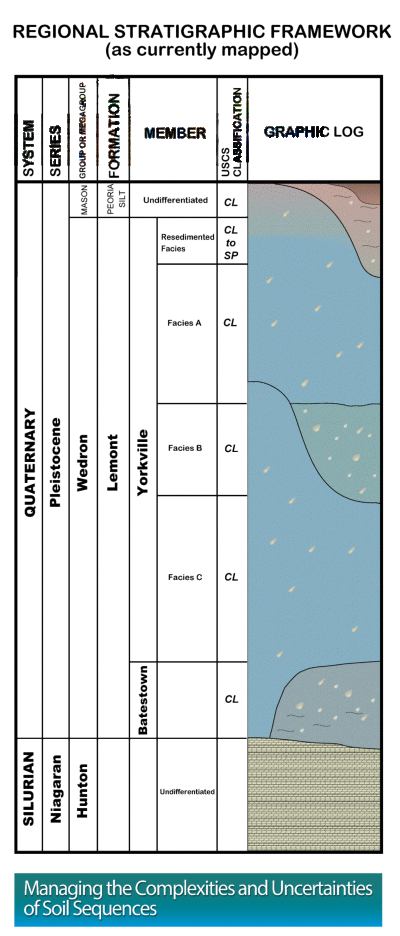 Wisconsin-Age Sediments
The drilling location for the course is within the mapped area of the Yorkville Member of the Lemont Formation near the DuPage - Kane County border. Four facies of the Yorkville Member are expected to be present in the boring: an ice-marginal facies and three subglacial facies. Below the Yorkville Member is the Batestown Member which can be variable in depositional environments and the resulting sedimentary properties.

Sorted outwash sediments of the Henry Formation and/or the Equality Formation may occur within the Yorkville Member or Batestown Member. One of the most interesting discoveries is when sorted sediments are present and then to recognize its stratigraphic position and context. Without stratigraphic control/context, understanding the relationships between borings (where the sorted sediments are present) is virtually 'mission impossible'. But with stratigraphic context, it gives tremendous certainty and we can correlate buried sands without much question.

Pre-Wisconsin-Age Sediments
We recently discovered a buried "pocket" of pre-Wisconsin-Age sediments in the area. We ran Carbon-14 dating tests of the buried topsoil and confirmed it was pre-Wisconsin-Age and we assigned it to the Farmdale GeoSol.

Under the buried A-Horizon topsoil is a thick oxidized and unleached (OU) weathering zone. The sedimentary sequence included both subglacial and resedimented diamictons (glacial till) along with intervals of sorted sediments.

We expect to drill into the same buried "pocket" of pre-Wisconsin-Age sediments and sample the same sedimentary sequence from the other nearby borings where we made this discovery.

Not only is the buried "pocket" geologically interesting and an important discovery for regional mapping, but this single soil borings reveals the spectrum of attributes that can be applied to most glacial sequences anywhere.

In this one boring, we can
observe each of the major glacial depositional environments
observe each of the major outwash depositional environments
build the stratigraphic model based on depositional history
give geologic context to buried sand and gravel intervals

and determine if they tend to be isolated lenses
and determine if they tend to be laterally continuous

observe two weathering zone profiles

progressively downward from the ground surface
buried deep under the pre-Wisconsin-Age sequence

observe two A-Horizon Soils, one modern and one ancient.
learn how ground water moves through the holistic hydrogeologic system.
This is a great opportunity to more than witness a geologic discovery. This is historic opportunity to learn about applying geologic principles to professional work. There are not many chances like this where we can synthesize the geology in a way it can be applied to so many different other areas.

Take advantage of this unmatched opportunity.