On-Demand Webinars
Emerging Techniques in Hydraulic Testing for Fractured Rock:

Transducer Technologies From Measuring Water Levels
to Exporting Data




Transducers and data loggers are constantly advancing while the process for data acquisition and transfer keeps getting easier. In-Situ, Inc rents and sells a spectrum of equipment for aquifer testing and this webinar module presents a process to select the right tools for your project.

Even when you are confident of the geologic conditions, you may have difficulty designing effective aquifer tests, running field equipment or selecting the best available model to analyze the test data. Where do you turn for help with aquifer testing?

This webinar module is the answer to helping professionals learn the key steps to using data loggers and transducers during aquifer pumping tests. Jenny Mann from In-Situ, Inc will present the key steps for using the In-Situ Level TROLL and the steps to transfer data into AQTESOLV software.

Beginning with basic understanding about the In-Situ Level TROLLS, Jenny will teach the operation, data collection and data export. Learn the basic efficiencies about data management from field measurements to downloading data for software analysis.





---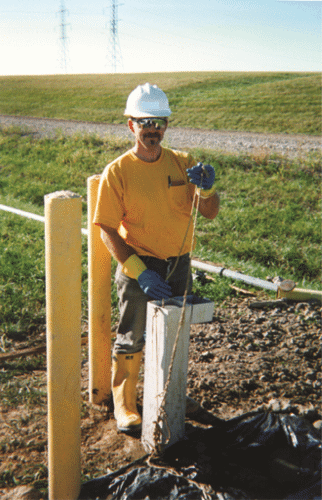 GeoMan Dan Korth poised to drop the solid slug
before a (______-head) slug test.

Answer is either "Rising" or "Falling"
Send your answer to info@midwestgeo.com.
---
Instructors Bio





Jenny Mann is the Technical Support and Service Manager at In-Situ, Inc in Fort Collins.

In-Situ customers benefit from Jenny's 10 years of service coupled with her mastery of all In-Situ, Inc equipment. If you've called Jenny Mann while you're working in the field then you know how helpful she is to clarify, troubleshoot and problem-solve beyond equipment questions. Before working at In-Situ, Jenny worked for the Stream Team at the US Forest Service. Her curious nature for science, equipment and water blossomed at the US Forest Service and that led her eventually to In-Situ, Inc.

Jenny earned her Environmental Science degree from Oregon State University and a Masters in Watershed Science from Colorado State University. She brings technical depth and personalization to her extensive instrumentation background. Jenny is passionate about taking care of customers and making sure that In-Situ customers are setup for success.

[ Thank you, Jenny, for all you do. -Midwest GeoSciences Group ]
---
Fee:
299.00 USD Per Webinar


Downloads:
Session Slides (PDF)
Record of Attendance Form (PDF)


Number of Participants:
Unlimited from a single computer (Broadcast webinar in your conference room or auditorium for no extra charge)


Continuing Education Certificates:
Unlimited. $14.95 each. Official CEU certificates are available as an option and only available at the time of webinar participation from Northern Illinois University. Ordering steps are given at time of webinar order.


Access:
On-demand, anytime 24/7.
Access Duration:
24 hours.


Discounts:
Buy 3 on-demand webinars, and get 3 on-demand webinars for free!


Duration:
90 minutes
PDH Earned:
1.5 hours
Instructor(s):
Jenny Mann

You must be a member to order an On-Demand Webinar!
Please 'Login' or 'Join' Now.


---
Members Login
Become A Member
It's Free, It's Easy and as a
Member you'll enjoy...
Exclusive Videos
Special Pricing
And Much More
Join
Learn More