ANAEROBIC ATTENUATION OF PETROLEUM CONTAMINATION:
Advances and New Trends in Measuring Natural Attenuation
Aerobic and anaerobic activity is occurring nearly everywhere that contamination exists in the subsurface. Discover the dominating anaerobic and geochemical processes of petroleum contamination.
This Webinar is an Applied Introduction to New Trends in Anaerobic Attenuation
Anaerobic degradation is the dominant driving force in natural attenuation of petroleum contamination in the subsurface. The contribution to natural attenuation by electron acceptors other than oxygen, such as nitrate, iron III, manganese IV, sulfate, and even carbon dioxide, has been the subject of considerable research in recent years. Bruce (2007), Kolhatkar et al. (2000), Wiedemeier et al. (1999), and Wilson et al. (2002) have shown that of these natural anaerobic processes, sulfate reduction accounts for most of the degradation because of its natural abundance in groundwater. The use of these alternative electron acceptors has been shown to have many potential advantages over the traditional approach of attempting to add dissolved oxygen to a plume.

Participants will benefit by learning new and relatively inexpensive methods for determining what attenuation processes are actually active in a plume. Learn whether or not enhancement through electron addition is likely to increase degradation rates for selecting the most appropriate remediation or monitoring strategy. Lastly it will present a mass balance method of estimating the amount of electron acceptor compounds that may be required to degrade a given contaminant source.

This 90 minute webinar provides answers about what microbial degradation processes are occurring by looking at simple geochemical indicators and changes in concentration from background across a plume. It includes case studies featuring anaerobic bioremediation and enhanced in-situ bioremediation.

What you will gain:
Discover the dominant chemical processes in natural attenuation of hydrocarbon contamination in the subsurface.
Learn both the basics and advances in anaerobic degradation through the addition of electron acceptors, and why it's important.
Apply simple geochemical parameters showing when anaerobic degradation is occurring and enhancement is feasible
Learn how to differentiate between attenuation caused by physical or chemical processes or biodegradation
ASK YOURSELF:

Do you believe that natural attenuation is occurring at nearly every site where hydrocarbon contamination exists in the subsurface?

Yes or No

What percent of natural biodegradation of HC contamination is aerobic (uses oxygen)?

a. Less than 10%
b. 10% to 50%
c. Greater than 50%

What percent of natural biodegradation of HC contamination is due to sulfate reduction?

a. Less than 10%
b. 10% to 50%
c. Greater than 50%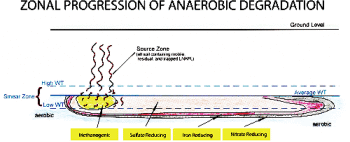 ---
Instructor Bio

Lyle Bruce, PhD, PG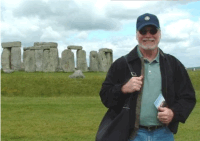 Dr. Lyle Bruce has over 35 years geologic experience. For the last twenty years he worked for BP Remediation Management focusing on investigating petroleum contamination, identifying and fingerprinting products, and providing solutions for remediation and cleanup. Prior to entering the fields of hydrogeology and environmental geology, Dr. Bruce was an exploration geologist for 15 years. He has an M.S. from The Ohio State University and a Ph.D. from Oklahoma State University.

Dr. Bruce retired from BP in August 2009 and founded L. G. Bruce Consulting.
---
Fee:
299.00 USD Per Webinar


Downloads:
Session Slides (PDF)
Additional Materials

Bruce 2010 Comparison of BTEX attenuation rates under anaerobic conditions Low res


Bruce 2010 Illinois Sulfate Pilot Test TPGSepOct


Bruce 2007 Anaerobic Degradation of Benzene Enhanced


Bruce 2007 Natural Degradation in a Fractured Karst Aquifer



Record of Attendance Form (PDF)


Number of Participants:
Unlimited from a single computer (Broadcast webinar in your conference room or auditorium for no extra charge)


Continuing Education Certificates:
Unlimited. $14.95 each. Official CEU certificates are available as an option and only available at the time of webinar participation from Northern Illinois University. Ordering steps are given at time of webinar order.


Access:
On-demand, anytime 24/7.
Access Duration:
24 hours.


Discounts:
Buy 3 on-demand webinars, and get 3 on-demand webinars for free!


Duration:
90 minutes
PDH Earned:
1.5 hours
MA LSP:
1.5 hours (MA LSP No. 1417-K)
Instructor(s):
Lyle Bruce, Ph.D., PG, retired from BP and founder of L. G. Bruce Consulting
---