Title:
Field Workshop for Hydrophysical and Geophysical Applications
Date:
Thursday and Friday, September 16-17, 2021 (9am to 5:30pm both days)
Location:
West Chester University, West Chester, PA


Instructors:
• David Hart, PhD, Hydrogeologist Wisconsin Geological and Natural History Survey

• Jim LoCoco, Geologist, Geophysicist, Co-Owner of Mount Sopris Instrument Company, Inc.

• Martin Helmke, PG, PhD, Hydrogeologist, and Professor, West Chester University


Continuing Education Information:
16.0 Contact Hours
1.6 Continuing Education Units (CEUs)
(960 minutes for PA PGs)

Continuing Education Units (CEUs) and a Course Completion Certificate administered by West Chester University


Who should attend:
Limited to 18 Participants.

Everyone who performs subsurface work.

Especially professional ground-water scientists, engineers, project managers, compliance-program managers and remedial-design managers who work at site with fractured bedrock.

This course is part of the Week-Long on-site training series dedicated to the HYDROGEOLOGY OF FRACTURED BEDROCK.

Sept 13-14 Classroom Session only:
-Contaminant Fate and Transport in Fractured Rock

Sept 15 Field Demonstration and Workshop:
-Nuclear Magnetic Resonance (NMR) Tool Operation and Analysis

Sept 16-17 (this course) Field Workshop:
-Field Workshop and Hydrophysical-Geophysical Tools Training


How to Prepare:
Be prepared to immediately dive into self-tests that are designed to help empower you unravel subsurface complexities like no other course.

We start at the beginning and boldly address the challenges we all face in our profession...and then move into principles and strategies for managing subsurface uncertainties for ground water and geotechnical projects.


Limited to 18 Participants.
Training Like Never Before
Participants will learn by doing. This is a hands-on training like no other where the participants will collect and analyze borehole geophysics and flow data from an onsite boring using the basic suite of downhole hydrophysical and geophysical tools:
Optical Borehole Imager
Acoustic Televiewer
Borehole (Spinner) Flow Meter
Borehole (Heat-Pulse) Flow Meter
Gamma Log
Electrical Conductivity Log
Caliper
Fluid Temperature
This training will provide the skills needed to dramatically and more efficiently better understand the subsurface and answer critical questions, such as:
What part of the aquifer provides the most water?
What depths are the fractures in the well?
What are their orientations?
Which fractures contribute to flow?
Which fractures don't give or take any water?
Each of these important questions can all be answered using the methods taught in this course. This unique training experience will provide a career and a company with new and applied abilities.

This field workshop is designed for professionals to go beyond just "watching" someone else make the measurements. This is a hands-on training like no other. This unique training experience will launch a career and a company with new abilities.
Exquisite Subsurface Conditions for Training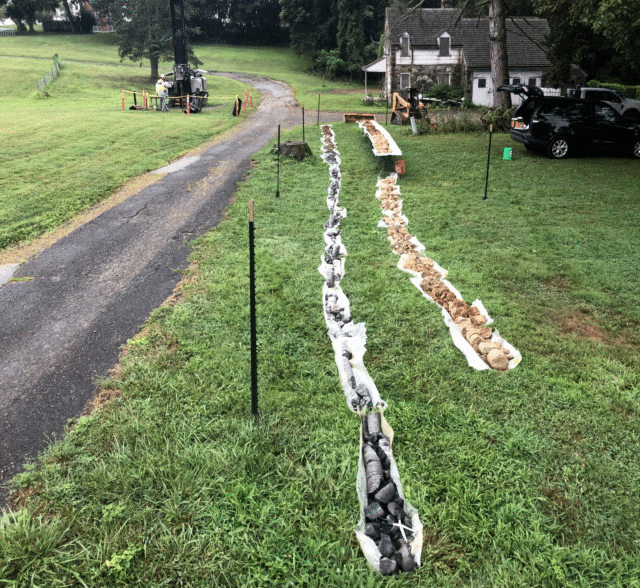 A new 160-ft borehole was drilled specifically for this training. Approximately 100 feet of open borehole through the Baltimore Gneiss located on campus at West Chester University of Pennsylvania is an exquisite subsurface condition to observe and test:
Open borehole from 70 to 160 feet depth showing variable fracture spacing, orientations, and distribution.
Variable geologic conditions exhibited in the borehole from Baltimore Gniess Sequence.
Alternating stratigraphic controls to fracture characteristics.
Low ground water flow to teach precision measurements with flow meters.
Classic saprogenesis observed in core for refining site hydrogeologic conceptual model.
Responsive geophysical logging to both cased saprolite and bedrock.
The borehole was drilled using continuous sampling using sonic drilling techniques by Cascade Drilling, Inc. The boring was logged in detail and showed a sequential saprogenic progression that is currently held as a site-specific hydrogeologic conceptual model. The saprolitic portion of the boring is cased to approximately 70 feet, where the transition occurs from weathered bedrock to a more competent felsic gneiss.

Hydrophysical measurements, geophysical logging, and aquifer testing has already been conducted at the Site in order to effectively and efficiently teach not only how to use the tools, but how to make adjustments during a typical field project.
Take the Time to Sharpen Your Skills
This field workshop is designed for professionals to go beyond just "watching" someone else make the measurements. This is a hands-on training like no other. This unique training experience will launch a career and a company with new abilities.

If you're a senior level manager and have a protégé who will benefit from participating, contact us for an unpublished discount that will enable them to join you and grow your project performance together.
Regional Geology
The Baltimore Gneiss is generally mapped as the gneiss mega-sequence that occupies the lowest stratigraphic position in the central Piedmont. The majority of the Baltimore Gneiss is characterized as quartzo-feldspathic gneiss of granodioritic to granitic composition, with minor components consisting of amphibolite. The age of the Baltimore Gneiss ranges from 1.0-1.1 Ga.
REGISTRATION INFORMATION:

Limited to 18 participants.

Advanced registration is necessary for participation in this limited-enrollment field workshop. Pre-registration is required to reserve space and receive course materials. If you require special arrangements for diet, equipment, or handicap facilities, please indicate when registering for the course.

Register online for this training experience.


WHAT YOU WILL RECEIVE:

16.0 contact hours of highly personalized field training and instruction, light breakfast, lunch, printed course notebook, a course completion certificate from West Chester University for qualifying participants.

RAIN OR SHINE. A rain shelter will be installed at the training area.


REGISTRATION:

ONLY $1494*

Early Registration Fee (member): $1,494.00

Extra Special Deal:
Bring a colleague or two for only $990 each. (when Members Register Early)

Early Registration Fee (non-member): $1,794.00

Late Registration (after August 31, 2021): $2194

Early Registration Deadline: August 31, 2021

[Currency in US Dollars]

Terms and Conditions


EARLY REGISTRATION DISCOUNT:
Early registration discounts may be applied when payment is received by August 31, 2021.

Terms and Conditions apply.

CANCELLATIONS:
Cancellations may be made up to September 3, 2021, however, 50 percent of the course fee will be charged or a credit will be issued. No refunds after September 3, 2021. Refunds are issued at the time when the course is conducted.

COVID: Midwest GeoSciences Group follows the
COVID protocols set forth by West Chester University of Pennsylvania.

SUBSTITUTIONS:
One substitute is allowed for each registrant who is unable to attend.

QUESTIONS:
For registration and technical questions about the course, contact Dan Kelleher at either 763.607.0092 or dan@midwestgeo.com


Midwest GeoSciences Group is extremely proud to have David Hart and Jim LoCoco together leading the instruction during this truly powerful field training experience.
It's the first time a field workshop like this has every been conducted, not only with the instruction team, suite of downhole tools, or the personalized training program, but the geologic conditions are exquisite for teaching a progression of weathered bedrock ranging from saprolite to competent rock.
---
DAVID J. HART, PG, PhD
Dave Hart is a hydrogeologist/geophysicist with the Wisconsin Geological and Natural History Survey and an associate professor at the University of Wisconsin-Extension.

Dave's applied research includes regional groundwater flow and recharge in southeastern Wisconsin, near-surface geophysics, and measurement of porosities and permeabilities in aquifers and aquitards. Prior to joining the university, he served as a hydrogeologist with Eder Associates. He is an associate editor for Ground Water and past president of the AWRA - Wisconsin Section.

---
JIM LOCOCO
Jim LoCoco has over 40 years worldwide experience in slimline borehole geophysics and since 1995 has been a principal at Mount Sopris Instrument Company in Denver, CO.

Prior to this time Jim worked at Colog, Inc. a Denver-based geophysical logging service company, and for EDCON another Denver-based geophysical consulting and service firm with operations in Saud Arabia.

Jim has B.S. degrees from the University of New Mexico in Geology and Mathematics and a graduate credential in Hydrogeology from the Ohio State University.

---
MARTIN H. HELMKE, PG, PhD
Martin Helmke is an internationally-recognized hydrogeologist with over 20 years experience as an educator and environmental consultant. Before joining West Chester University, he taught at Dickinson College, Iowa State University, Antioch College, and Directed the Geology Field Camp for Iowa State University and University of Nebraska in Shell, Wyoming. He has worked for the U.S. Geological Survey (Reston, Virginia), Versar (Springfield, Virginia), HydroLog (Yellow Springs, Ohio), Boyden Caverns (Kings Canyon, California) and Aquadrill (Coralville, Iowa).

Martin is also a licensed hydrogeologist specializing in groundwater contaminant transport, fate, and remediation. He has twenty-two years experience as a project manager, environmental consultant, professor, and researcher.

Martin contributes to the community in several ways, but especially through employing service-learning in most of his upper-level courses by encouraging his students to apply their geologic skills to assist the community with real-world, geologic issues and projects (Way to go, Martin!).

He also serves the community alongside his students as a member of the Chester County Hazardous Materials Team, the Pennsylvania Company 2 Natural-Disaster Response Team, the Fame Fire Company, and the WCU QRS Medical Service. Oh yes, Martin is also the Past-President of the Pennsylvania Council of Professional Geologists.

---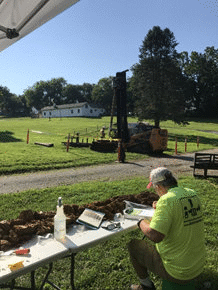 FIELD SITE

West Chester University
(National) Saprolite Research Center
Campus Location
















---
ACCOMMODATIONS

Hotel Warner
120 N. High Street
West Chester, PA 19380
Phone: 610-692-6920
WCU / MidwestGeo Event Rate:
$139.00 / night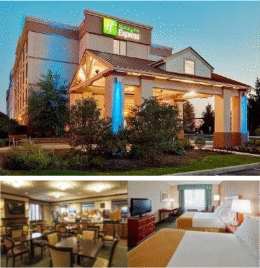 Holiday Inn Express
120 N. Pottstown Pike
Exton, PA 19341
Phone: 610-561-9762
Rates Forthcoming
Map and Directions from
Holiday Inn Hotel to Classroom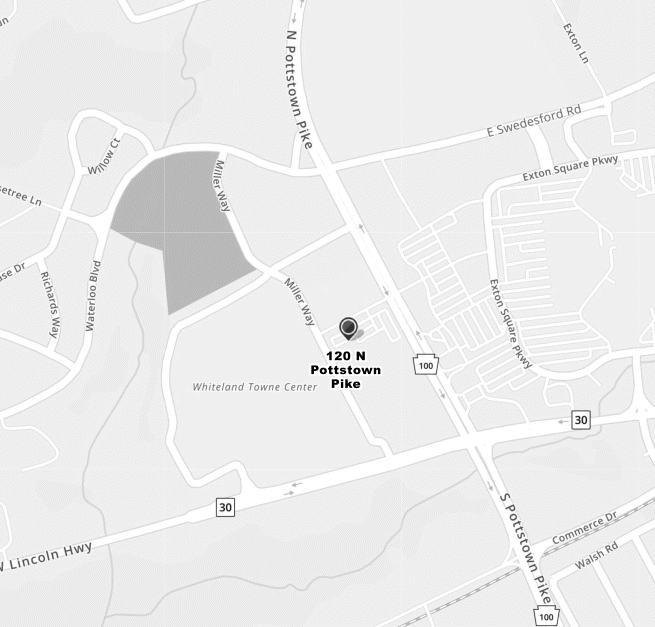 click on map for details
Members Login
Become A Member
It's Free, It's Easy and as a
Member you'll enjoy...
Exclusive Videos
Special Pricing
And Much More
Join
Learn More