SLUG TESTING FOR SITE CHARACTERIZATION:
Practical Guidelines to Improve Efficiency and Accuracy
Despite slug tests being the most common technique for determining transmissive properties at sites with ground water contamination, much of the information is of questionable quality as a result of inappropriate field and analysis procedures.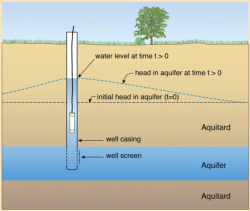 Learn how to design and conduct slug tests in various settings and well configurations. Whether your site is comprised of exceptionally high or low hydraulic conductivity, standard wells or direct-push installations or even if you have existing data that is questionable, this 90-minute webinar will provide participants with answers that is not available elsewhere on the web.

Much of the field and theoretical research on slug tests over the last decade has been done by Jim Butler and colleagues. Jim's work is widely recognized by the academic, consulting, and regulatory communities as having led to significant advances in the state of the practice for slug testing.




Confined Formations

Wells Screened Accross
the Water Table

Oscillatory Response
Here's what people are saying about Jim's past webinar:

"All the webinars that I ordered were excellent, taught by high quality instructors. Each one addressed some (important technical) gaps. I enjoyed the webinars on the 'Hydrogeology of Aquitards and Low Permeability Materials' and the webinar on 'Slug Testing for Site Characterization'. These are important hydrologic subjects that are not usually covered in school curricula. Aquitards are important part of every groundwater project when describing the flow of groundwater in aquifers or the movement of contaminants in groundwater."
- William Ford, Geohydrologist, Federal Agency

"By using real-world slug test data during the webinar, I was able to see right away how Jim Butler's guidelines improve the efficiency and confidence in hydraulic conductivity test results. The presentation's clear graphics and on-site examples made this a practical learning experience, and I will certainly be able to implement these ideas both in the field and in analysis."
- Rachel McLean, AMEC Earth & Environmental
---
Instructor Bio

Jim Butler, Ph.D.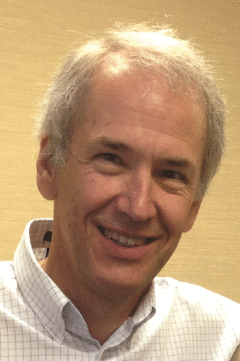 Jim Butler is the author of "The Design, Performance, and Analysis of Slug Tests" (Second Edition). He currently is a Senior Scientist in the Geohydrology Section of the Kansas Geological Survey at the University of Kansas, where he has worked for over 30 years.

His research interests include aquifer testing, assessment of aquifers that support irrigated agriculture, high-resolution subsurface characterization, well responses to natural and anthropogenic stimuli, and the role of phreatophytes in stream-aquifer systems.

Jim holds a B.S. in Geology from the College of William and Mary, and a M.S. and Ph.D. in Applied Hydrogeology from Stanford University. Jim was the 2007 Darcy Distinguished Lecturer of the National Ground Water Association (NGWA), the 2009 Pioneers in Groundwater Award honoree by the American Society of Civil Engineers - Environmental and Water Resources Institute, and, most recently, the 2020 recipient of NGWA's M. King Hubbert Award.

Jim helps advance the environmental and engineering industry through teaching professionals about both slug testing and pumping tests. Jim has taught more than 40 courses with Midwest GeoSciences Group. This webinar is another step toward that advancement and we are grateful to have Jim Butler teach this purposeful and applied webinar.
---
Fee:
299.00 USD Per Webinar


Downloads:
Session Slides (PDF)
Additional Materials

Butler 1996 Environmental Geosciences


Butler et al 1996 Reprint


Butler et al 2007 Ground Water DP Permeameter


Butler Healey Garnet Paper Analysis of High K Formations



Record of Attendance Form (PDF)


Number of
Participants:
AS OF JUNE 1, 2020, WEBINARS ARE PRICED FOR INDIVIDUALS WORKING ALONE.
Pricing is discounted for individual registrations for people working alone.


Continuing
Education
Certificates:
Unlimited. $14.95 each. Official CEU certificates are available as an option and only available at the time of webinar participation from Northern Illinois University. Ordering steps are given at time of webinar order.


Access:
On-demand, anytime 24/7.
Access Duration:
24 hours.


Discounts:
Buy 3 on-demand webinars, and get 3 on-demand webinars for free!


Duration:
90 minutes
PDH Earned:
1.5 hours
MA LSP:
1.5 hours (MA LSP No. 1417-F)
Instructor(s):
Jim Butler, Ph.D.
Section Chief at the Kansas Geological Survey
and author of The Design, Performance, and Analysis of Slug Tests