SLUG TESTING DATA SHEETS
from Kansas Geological Survey
(distributed with permission)

Data Acquisition Sheet
Data Processing and Analysis Sheet


Slug Testing has never been more reliable, or so easy.
Reduce noise from quick-recovery tests
Capture sufficient data for short-duration tests
Manage initial displacements for high-K formations
Use your own pressure transducer
Optimize and minimize initial head displacement
Apply to common well sizes up to 4 inches in diameter

The Pneumatic Hi-K® Slug by Midwest GeoSciences Group is the answer for conducting slug tests in fast recovery wells. It uses air pressure from a hand-held pump to lower the water level and the easy-to-use valve releases the pressure immediately to dramatically improve test results!

Each pneumatic slug assembly comes with a pressure gauge reading head displacement in inches or centimeters of water so you do not need to calculate a conversion from PSI!

It includes a hand pump for pressurization, a standard attachment for a 2" diameter well, instruction sheet and a storage case. It is compatible with In-Situ and Solinist transducers up to 1" diameter. Transducer cables are accommodated with a compression fitting accommodating different cable diameters. Optional accessories include attachments for fitting 3/4" diameter wells such as those for direct push well installations and attachments for 4" diameter wells.

RENT the Pneumatic Hi-K Slug:

| | |
| --- | --- |
| RATE: | $199 / week |
| SHIPPING: | Call for Shipping Options, Prices, and Delivery Schedule: 763.607.0092 |
| TO RENT: | Call 763.607.0092 or email: service@midwestgeo.com |
PURCHASE the Pneumatic Hi-K Slug:

-shipping in the US (except AK and HI): $58.00
-shipping in AK, HI, Canada: $68.00
-shipping outside the US and Canada: $295.00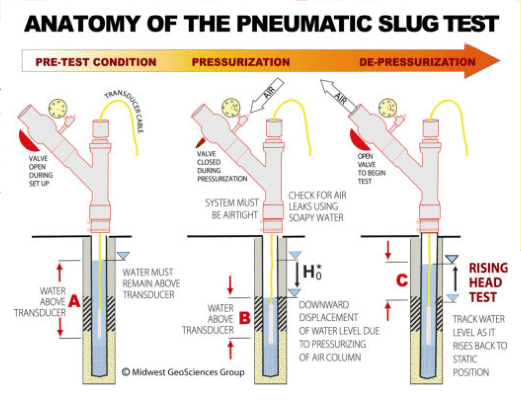 The Pneumatic Hi-K® Slug provides high-quality data for accurate slug testing of hydraulic conductivity (K). The Pneumatic Hi-K® Slug is a kit that is contained in a toolbox and and easily carried from well to well.

Pneumatic slug testing methods require an air tight seal at the well head and air pressure to lower the water level. As air is pressurized in the well, the upward water pressure and the downward air pressure are equal. Once the water level has been lowered to the desired Initial Displacement (H(o)) distance and it is stable, the test is performed by releasing the valve allowing instantaneous release of the air pressure. The water level rises (rising head test) and the pressure transducer and data logger records the changes in water level and time.

The release of the air pressure exhibits a smooth recovery of the water level with minimal (if any) noise. So tests that recover in a few seconds may be tested with small and manageable Initial Displacements (H(o)) coupled with obtaining reliable data sufficient for a confident analysis.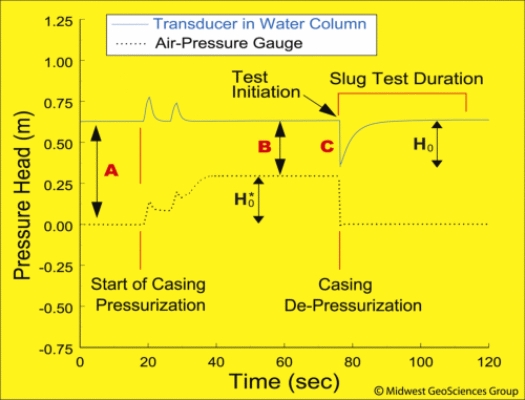 Testimonials:
The Hi-K slug kit worked great, we were able to get some good data on the wells that were giving us issues with the mechanical method. Next time I do slug testing I will definitely be giving you a call again.
- Stuart Holmes, Hydrogeologist, Environment, AECOM.
The Pneumatic Hi-K Slug is very easy to use, with easy to follow instructions and a complete equipment check list. My slug tests were quick to perform and I was able to perform 3 tests in the time in would take to do one conventional test. The resulting data was very smooth, distinguishable (no oscillation or pressure wave) and easy to process. Every Hydrogeologist should have this piece of equipment in their groundwater toolbox.
- Dan Kennedy P.Eng., Klohn Crippen Berger, Vancouver, Canada
We recently used your pneumatic Hi-K Slug test kit on a project with numerous wells. The kit was easy to use, saved us time, and eliminated cleaning that is required using a traditional solid slug. The best part is that the Hi-K kit provided excellent results with smooth test data that was free of early oscillations typical of solid slug tests. I definitely recommend this kit for others. And you can't beat the price. Thanks again for making our job easier.
- Fred Kolberg-Tetra Tech, Germantown, Maryland
My company purchased the Midwest GeoSciences Pneumatic "Hi-K" Slug Test Assembly to use on a series of fractured, deep bedrock wells. The slug provided clean data during slug tests and allowed us to see oscillatory responses in some wells that were not observed using traditional slugs. For my office, it has become the primary method of slug testing when applicable.

The apparatus is well-built, fairly easy to install, and definitely a worthwhile addition one's field equipment inventory.
- Paul L. D'Annibale, O'Brien & Gere
The Midwest Geo High-K Pneumatic Slug Test Kit was very convenient and easy to use. There was no need to transport water and since there is no solid slug, transducer movement during the test is virtually eliminated. I will definitely continue to use this kit whenever site conditions allow.
- Aaron Ezzell, PE, PG, Terracon Consultants, Inc.
---

English or Metric Measurements:
When you order a PNEUMATIC HI-K SLUG®, you can choose pressure gauge options that read in either English units (Inches of Water) or Metric units (Centimeters of Water). Design and measure your initial displacements that work best for you!

Guidance:
Refer to the following guidance documents when conducting slug tests using the MidwestGeo PNEUMATIC HI-K SLUG&reg:

ASTM D7242 - 06
Standard Practice for Field Pneumatic Slug (Instantaneous Change in Head) Tests to Determine Hydraulic Properties of Aquifers with Direct Push Ground Water Samplers
http://www.astm.org/Standards/D7242.htm

In-Situ, Inc. Technical Note
Pneumatic Slug Testing on Highly Transmissive Aquifers
http://www.in-situ.com/Technical_notes



THOSE WHO PURCHASE THIS ITEM, MAY ALSO BE INTERESTED IN:

FIELD GUIDE FOR SLUG TESTING AND DATA ANALYSIS

Simplify test procedures while increasing the reliability and accuracy of designing, conducting and analyzing slug tests!


---
SOLID H(o) SLUG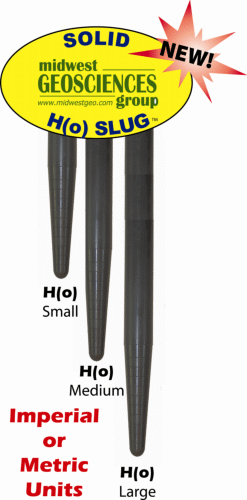 The Solid H(o) Slug® by Midwest GeoSciences Group is a traditional solid slug for slug testing. It is designed to yield a pre-estimated initial displacement in two-inch diameter wells for improving confidence and accuracy of slug testing.













---
90-min WEBINAR: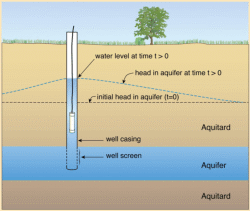 SLUG TESTING FOR SITE CHARACTERIZATION:
Practical Guidelines to Improve Efficiency and Accuracy

by: Jim Butler, PhD.

---

The Design, Performance and Analysis
of Slug Tests, Second Edition

By Jim Butler, PhD, (CRC Press, 2020)







---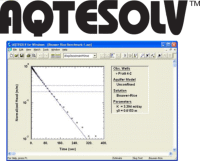 Download a free Demo Version or learn more about ordering the analysis software, AQTESOLV, used by more hydrogeologists than any other software.
www.aqtesolv.com