---
---
Built for the Individual
(at home or in the office)

Self-Paced, Personal, Private, and Purposeful.

ONLY 60 PARTICIPANTS

Registration is open now, first come, first served basis.
Discover and learn the most up-to-date information about
aquifer pumping test techniques from some of the most
recognized authorities in ground water.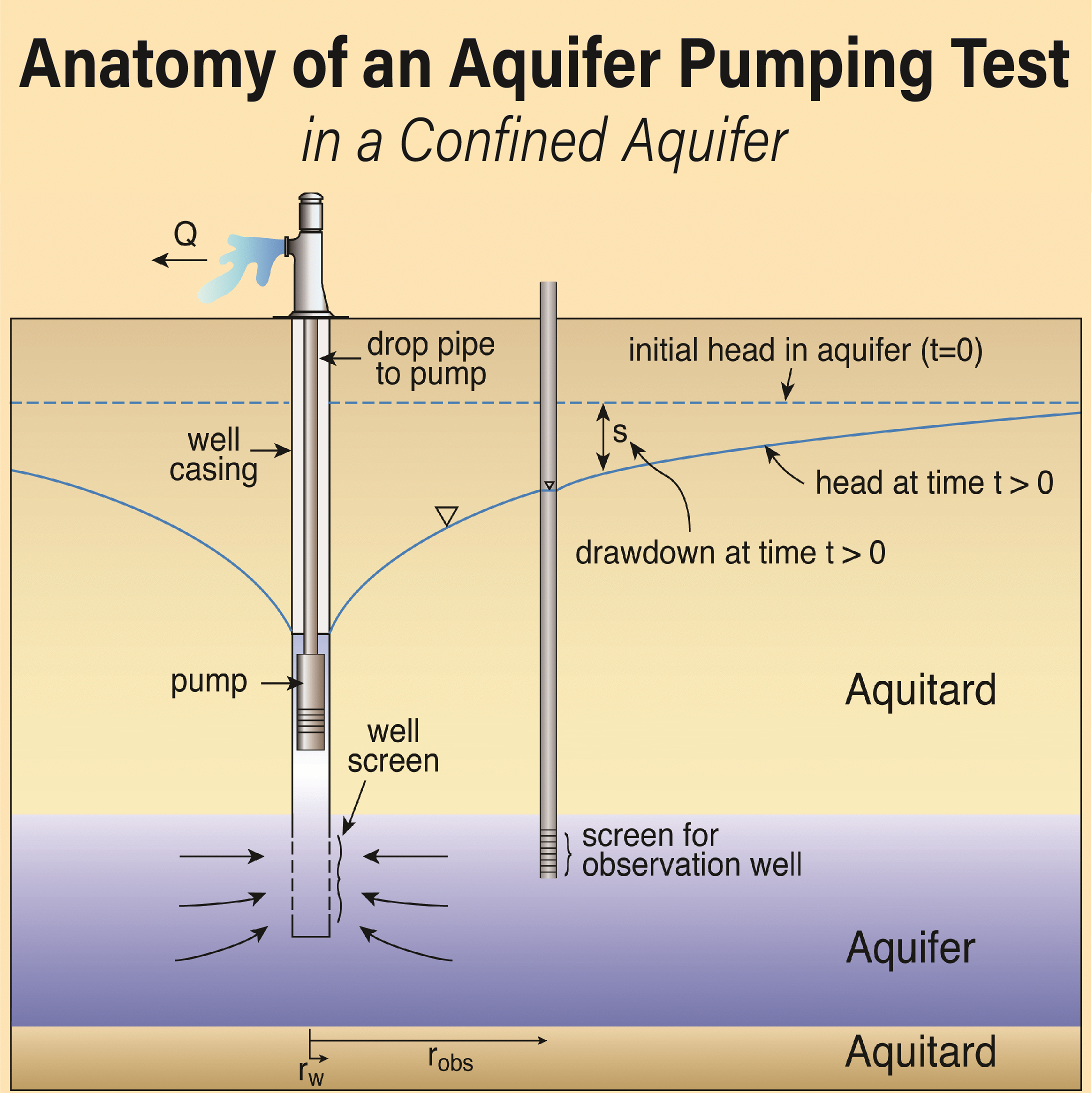 Aquifer Pumping Tests are a key element to site characterization, water resources assessment and remediation system design. Even when you are confident of the geologic conditions, you may have difficulty designing effective aquifer tests, running field equipment or selecting the best available model to analyze the test data. Where do you turn for help with aquifer testing?

Midwest GeoSciences Group and In-Situ, Inc. can help! We have designed a powerful online-offline course about pumping test design, equipment, data analysis techniques.

This course teaches key steps for modernizing your aquifer testing from beginning to end.

Thoughtfully Designed Course Experience:

Beginning with pre-course study materials and a self-assessment, this course is not simply a webinar series.

Offline tutorial activities begin each consecutive module. Prepare yourself for the first online course module about pumping test design insights and then progressing with step drawdown tests for optimizing the constant rate pumping test. Learn the fundamentals of the Theis Solution before stepping further into aquifer testing analysis and interpretation techniques. The final online module teaches technical insights related to collecting continuous water levels, downloading the data, and then exporting it to analysis software.

Live Interaction at Your Own Pace

The personalized experience allows each registrant to learn (1) at their own experience level, (2) at their own pace, and (3) and in a private setting except when they have questions or request extra tutorials.

You're encouraged to participate on the live course modules in order to interact with the instructor. If you prefer to watch a module at a later time as an On-Demand Option at your own pace, you are welcome to do it. The live course modules are scheduled on Thursdays at 2:00 PM ET from October 8 to November 12. If you miss a live module, you have 6 months to initiate it as an On-Demand Webinar. Take your time and dive deep into this course experience.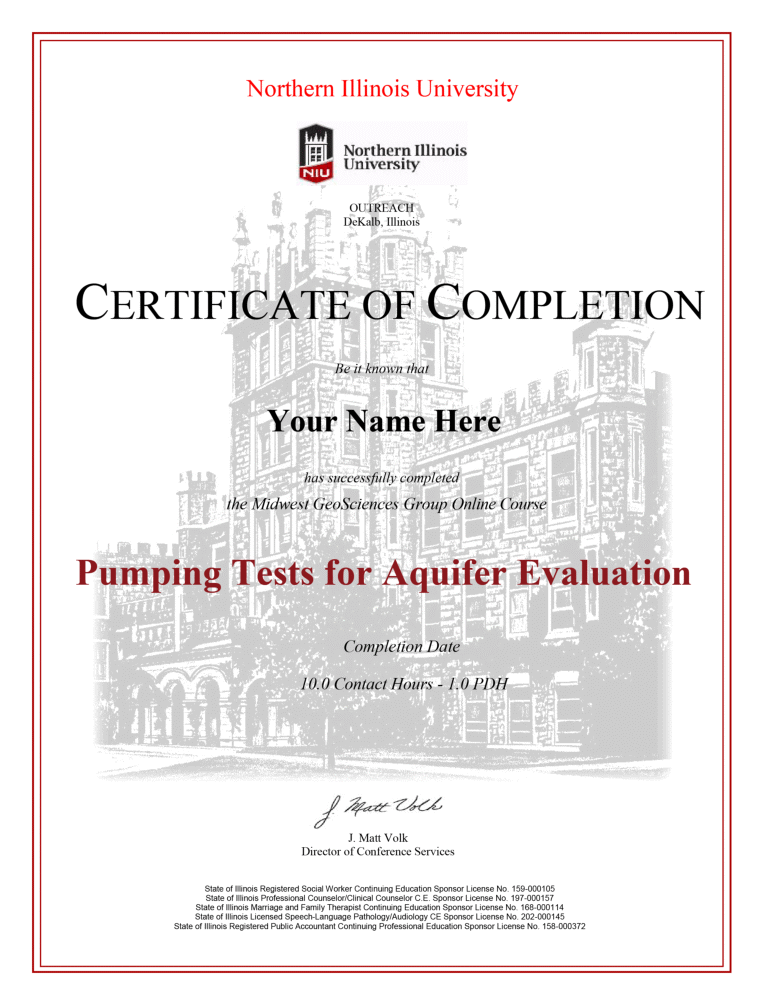 Final Exam and CEU Certificate

The course concludes with a Final Exam. Options for an additional tutorial is available and each registrant receives an official CEU Certificate from Northern Illinois University showing 10.0 Contact Hours.










Register now for this unique online-offline course
that presents key insights about aquifer pumping tests
that are found nowhere else online.
Online - Offline CEU Course on Aquifer Pumping Tests
Designed for the individual working at home or in the office.

Six live course modules @ 90 min each: 9.0 Contact Hours
Study Material, Tutorials, and Self-Testing: 1.0 Hour

Total: 10.0 Contact Hours.
Includes:
• Pre-Course Study Materials
• Offline Tutorial Activities
• Proficiency Testing
• Comprehensive Aquifer Testing Reference List
• Final Exam
• CE Certificate from Northern Illinois University
(for 10.0 Contact Hours)
---
Member Pricing for this Special Series (USD):
Your order contains
Contact Hours
per Attendee
Cost per
Webinar
One Webinar
1.5 hours
$249.00
Two Webinars
(or more)
3.0 hours
qty x 1.5 hours
$149.00
Entire Series: Six Webinars and
Study Materials, Tutorials, and Self-Testing
10.0 hours
$99.00
*Best Deal
---
"The (aquifer testing) series is easy to use and (each) presentation was really clear. The opportunity to hear from and interact with leading experts in the field without having to travel to conferences is an extremely effective way to disseminate information as well as build a community. I strongly recommend these (online sessions) to anyone working in the geosciences, from academics to industry practitioners."
- Andrew Ireson, Hydrogeologist
"Midwest Geosciences consistently offers quality and cost-effective educational opportunities. The Aquifer Testing Series is very informative; a good mix of technical understanding and practical application. I would recommend a Midwest Geosciences course to any of my colleagues."
- Michael Plante, PG, GISP Associate / Hydrogeologist
---
PUMPING TESTS FOR AQUIFER EVALUATION:
Part 1: Practical Design Guidelines to Get More from Your Test Data
by Jim Butler, Ph.D.
October 08, 2020
Part 2: Step Drawdown Testing
by Michael Kenrick, PE, PhD
October 15, 2020
Part 3: Foundations of Pumping Test Interpretation:
1. The Theis Model
by Chris Neville, M.Sc., P.Eng.
October 22, 2020
Part 4: Foundations of Pumping Test Interpretation:
2. Interpretation of Pumping Tests in Real Aquifers
by Chris Neville, M.Sc., P.Eng.
October 29, 2020
Part 5: Recovery Analysis Strategies and Techniques
by Garth van der Kamp, PhD
November 05, 2020
Part 6: Water Level Measurements and Techniques for Pumping Tests
by Adam Hobson, PG
November 12, 2020
---
EXTRA Bonus...

Group Discount: One Free Registration with 4 paid registrations (within same organization), just add all 5 registrations to your cart.
---
SCHEDULING CONFLICT?
here's an option for you
---
As with All of our Webinars...

A Record of Attendance Form is included free with each webinar for your record keeping and PDH verification. Attendees may also order official a Course Completion Certificate from Northern Illinois University to confirm your attendance and showcase on your office wall. Instructions for ordering certificates are given during the webinar.
---