On-Demand Webinars
HYDROGEOLOGY OF KARST CONDITIONS: Part 2:
Ground Water Dye Tracing: Applications and Methods
Karst hydrogeology is challenging and complex. Part 2 of this two-part series walks participants through the process of how to perform a dye trace, avoid common problems, and interpret the tracer test results. Fluorescent dye tracing can be used to study groundwater movement in karst aquifer settings, and is typically the first step in obtaining the necessary information to assess aquifer monitoring, pollution prevention, and water resource management.
This webinar is the second of a two-part series on Karst Hydrogeology. Although both webinars are designed to complement each other they can also be viewed independently.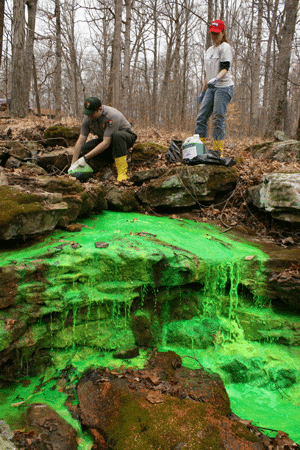 Part 2 highlights include:
Using fluorescent dye tracing for projects such as pre-construction environmental assessment, groundwater basin delineation, landfill permitting and remediation, and dam leakage
Methods for delineating a study area and conducting a karst hydrogeologic inventory
Tips for establishing monitoring locations and choosing dye injection locations
Dye injection techniques for karst features, wells, and soil pits
Background fluorescence monitoring and its importance
Matrix interference investigations and their application
Factors involved in choosing the type and amount of fluorescent dye to use
Recommendations for avoiding cross contamination in the field
Brief explanation of lab procedures and how Crawford Hydrology Laboratory identifies a positive trace
Interpretation of tracer test results to identify direction and timing of groundwater flow paths and delineate groundwater basins
---
Instructors Bio

Dr. Chris Groves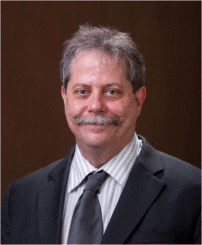 Dr. Chris Groves is the director of the Crawford Hydrology Laboratory and Hoffman Environmental Research Institute and is a Distinguished University Professor of Geography at Western Kentucky University. Since receiving a PhD In Environmental Sciences at the University of Virginia in 1993, Dr. Groves has developed an active international research program in basic and applied hydrogeology, geochemistry, and water resources. He currently serves as a co-leader of the United Nations Scientific Program "Environmental Change and Sustainability in Karst Systems," and as a member of the Governing Board of the International Research Center on Karst under the auspices of UNESCO. In 2013 he was nominated by China's Ministry of Land and Resources for the China Friendship Award, that nation's highest award for foreign experts. With more than 30 years of international experience in karst hydrogeology, Dr. Groves provides experienced oversight of karst groundwater flow investigations for Crawford Hydrology Laboratory.


Ms. Lee Anne Bledsoe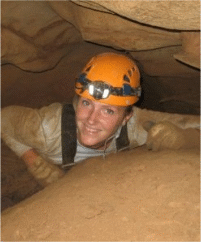 Mrs. Bledsoe is the manager for the Crawford Hydrology Laboratory at Western Kentucky University. She supervises all daily workings of the lab, including laboratory analysis, QA/QC, and field work, and communicates with clients. She has worked on dye traces for groundwater basin mapping, effluent and sewer pipe break investigations, determining groundwater flow routes from factories and quarries, and determining spring recharge areas.

Mrs. Bledsoe also coordinates and assists in training and outreach events for the Hoffman Environmental Research Institute at Western Kentucky University. Before joining the Hoffman team, she worked for private research institutes and the National Park Service on water quality, hydrology, ecosystem restoration, and public health research projects. She is a Registered Sanitarian with the Department of Public Health for the State of Kentucky and is a certified onsite wastewater disposal inspector. Ms. Bledsoe is currently pursuing a Master of Science degree in Geoscience at Western Kentucky University.
---
Fee:
299.00 USD Per Webinar


Downloads:
Session Slides (PDF)
Record of Attendance Form (PDF)


Number of Participants:
Unlimited from a single computer (Broadcast webinar in your conference room or auditorium for no extra charge)


Continuing Education Certificates:
Unlimited. $14.95 each. Official CEU certificates are available as an option and only available at the time of webinar participation from Northern Illinois University. Ordering steps are given at time of webinar order.


Access:
On-demand, anytime 24/7.
Access Duration:
24 hours.


Discounts:
Buy 3 on-demand webinars, and get 3 on-demand webinars for free!


Duration:
90 minutes
PDH Earned:
1.5 hours
Instructor(s):
Dr. Chris Groves and Ms. Lee Anne Bledsoe
---
Members Login
Become A Member
It's Free, It's Easy and as a
Member you'll enjoy...
Exclusive Videos
Special Pricing
And Much More
Join
Learn More