INTERPRETATION OF WATER-LEVEL CHANGES IN WELLS: Signal or Noise?
Hydrographs from continuously monitored wells can provide important information for a wide range of hydrogeologic investigations. The big question, however, is how to extract the information of relevance for your investigation. Ask yourself how you would interpret the data below: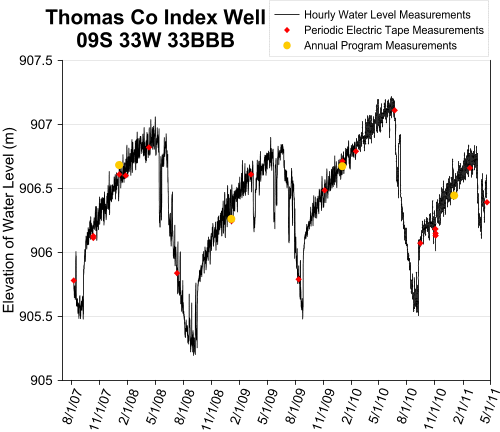 If you work on groundwater-related projects, you can appreciate the importance of not only identifying and differentiating water level noise from the clean data signal, but, more importantly, how to cope with it so it does not lead to erroneous results that can be a technical mistake or, worse yet, a project team embarrassment.
In this 90-minute webinar, participants will learn
The mechanisms that can affect hydrographs and the impacts that monitoring equipment can have on water-level records;
How to assess the hydrostratigraphic setting from water-level responses to changes in barometric pressure;
Simple to perform analysis procedures to remove the impact of barometric-pressure changes from water-level data;
How to apply pumping-test analysis methods to hydrograph records to get insights into the major hydrostratigraphic controls on the system under investigation.
This webinar is taught by Jim Butler who will provide participants with information that is not available elsewhere on the web. Jim's work on hydrogeologic field methods is widely recognized by the academic, consulting, and regulatory communities.
---
Here's what people are saying about Jim's past webinar:

"A very well executed online training session that enabled us to analyse existing pressure transducer data from a new perspective, gaining new knowledge about our wells and aquifers using data already collected. New concepts were quickly and easily understood thanks to the presentation and delivery of the speaker. Highly recommended for anyone working in groundwater monitoring programs."
-Graeme Henderson, Groundwater Technician, British Columbia Public Service

"By using real-world slug test data during the webinar, I was able to see right away how Jim Butler's guidelines improve the efficiency and confidence in hydraulic conductivity test results. The presentation's clear graphics and on-site examples made this a practical learning experience, and I will certainly be able to implement these ideas both in the field and in analysis".
-Rachel McLean, AMEC Earth & Environmental
---
Instructor Bio
Jim Butler, PhD
Kansas Geological Survey
Award-winning author of The Design, Performance, and Analysis of Slug Tests


Jim Butler is author the popular book "The Design, Performance, and Analysis of Slug Tests," which is widely recognized as the key reference for slug testing.

Jim was the 2007 National Ground Water Association Distinguished Darcy Lecturer and the recipient of the 2009 Pioneers in Groundwater Award from the Environmental and Water Resources Institute of the American Society of Civil Engineers.

Jim's research includes aquifer testing, direct push hydraulic profiling, groundwater use by phreatophytes, and interactions between surface water and groundwater. Jim holds a B.S. in geology from the College of William and Mary, and M.S. and Ph.D. degrees in applied hydrogeology from Stanford University.

For the last 23 years, he has worked as an applied research hydrogeologist at the Kansas Geological Survey at the University of Kansas and is now the Section Chief of the Geohydrology Section there. He also is an Associate of the Center for East Asian Studies at the University of Kansas, a courtesy faculty member of the University of Kansas Department of Geology, and associate editor of "Hydrological Sciences Journal" and "Ground Water."
---
Fee:
299.00 USD Per Webinar


Downloads:
Session Slides (PDF)
Additional MaterialsRecord of Attendance Form (PDF)


Number of Participants:
Unlimited from a single computer (Broadcast webinar in your conference room or auditorium for no extra charge)


Continuing Education Certificates:
Unlimited. $14.95 each. Official CEU certificates are available as an option and only available at the time of webinar participation from Northern Illinois University. Ordering steps are given at time of webinar order.


Access:
On-demand, anytime 24/7.
Access Duration:
24 hours.


Discounts:
Buy 3 on-demand webinars, and get 3 on-demand webinars for free!


Duration:
90 minutes
PDH Earned:
1.5 hours
Instructor(s):
Jim Butler, Ph.D.
Section Chief at the Kansas Geological Survey
and author of The Design, Performance, and Analysis of Slug Tests

You must be a member to order an On-Demand Webinar!
Please 'Login' or 'Join' Now.


---